Marketing Technology or MarTech for short refers to the tools, technologies, and platforms that the sales and marketing (S&M) functions of corporations use to plan, execute, manage, track, and analyse marketing activities and campaigns. It includes a wide spectrum of software applications, digital tools, and data-driven solutions used in conjunction to enhance marketing effectiveness, productivity and competence.
An effective MarTech adoption serves to combine data from marketing platforms through technology to enable organizations to automate and streamline marketing processes, gain insights from data, deliver personalized customer experiences, to achieve better business outcomes. The integration of data captured through applications that manage marketing activities through technology platforms envisages to rationalize and optimize marketing efforts, enhance customer engagement and experience. It not only helps in rationalizing the sales and marketing spend but also helps to better plan marketing spends through insightful budgeting. 
According to MarTech Alliance's "The State of Martech 2022/23", 68% of CMOs agree that marketing technology is at the heart of their organisation's marketing strategy, and that its use is critical for meeting customer expectations, However, the intricacies of managing MarTech data from multiple platforms is one of the most challenging aspects that they grapple on a constant basis.
There could be many more like Data Management and tools that can help analyse and provide insights on the effectiveness of campaigns etc.
MarTech plays a crucial role in modern marketing, empowering businesses to leverage data, automation, and technology to drive customer engagement, improve marketing effectiveness, and achieve business growth.
Understanding Corporate Budget Allocation Drivers in MarTech
Most commonly, MarTech budgets are expected to increase by between 6% and 10% across verticals. This reflect marketers' confidence in the technology but may also could be the result of price inflation from MarTech vendors.
Interestingly, biggest driver of Martech spend is changing customer behaviour (37%) and the changing tech landscape (27%). This reflects the need for contemporary technology adoption to meet customer expectations, and the need to keep on top of the platforms required to provide great experiences.
The importance of customer experience lies at the heart of this. LXA's 2022 State of CX report found that 72% of CMOs see the ability to deliver excellent customer experience as a 'powerful competitive advantage'.
Barriers In Managing MarTech Technology:
MarTech management has revolutionized the way companies across most verticals interact with their customers and manage their operations. However, managing these solutions effectively requires a well-thought-out strategy and the overcoming of several challenges.
Interestingly, though the best of platforms and key technologies are available in the market, the most prominent of the barriers are related to improper or lack of adoption of Data Governance frameworks. Distilling the above in the context of Data Management gives an additional perspective in relation to the visible fractures in managing data itself.
Data Management Challenges in Managing Marketing and Sales Data
From the above, it becomes clear that even before ingestion of MarTech data along with other data sources into the mainstream Data Management journey, investing in Data Governance becomes indispensable and crucial.
Why adopting Data Governance is very crucial for excellence in the leveraging MarTech Data?
Adopting a Data Governance framework before leveraging MarTech data is critical for several reasons:
Data Ownership and Accountability: A Gartner's study of "Barrier to Data Governance Objectives," the top 3 most cited reasons are:

Lack of understanding of key roles
Lack of skills to drive data governance initiatives.
Lack of standardized approach to governance.
Organizational structure
is therefore a very crucial aspect that need to be looked at. This helps define roles, responsibilities, and ownership of data to bring clarity on who is responsible for data management, data quality etc.
Data Integration and Consistency

Given that MarTech data will be sourced from multiple internal and even from external systems, it is critical to ensure data integration is consistent and standardized. It's important to establish data integration protocols, data mapping, and data transformation guidelines to maintain data consistency.

Data Quality and Integrity

To ensure that the data consumed out of MarTech systems is accurate, reliable, and consistent, its important to establish standards, processes, and controls to maintain data quality and integrity throughout its lifecycle.

Data Consents and Usage Protocols

In today's world corporations possess a lot of customer information and therefore it's important to promote transparency and ethical use of customer data. It important for customers to have control over the data they provide to foster trust. Consent management enhances brand reputation and ensures strong customer relationships.

Compliance and Privacy

Adopting policies and practices to manage data privacy, and compliance with data protection regulations such as GDPR (General Data Protection Regulation) and CCPA (California Consumer Privacy Act), ensure that customer data is handled responsibly by adhering to relevant legal and ethical guidelines.

Data Security and Risk Management

Since MarTech data most often contain sensitive customer information, including personally identifiable information (PII), its important to implement appropriate security measures, access controls, and data classification, so that organizations can safeguard customer data and protect against potential security threats.

Data Access and Sharing

This is a very crucial aspect since data should be made accessible only to authorized stakeholders while maintaining appropriate data security and privacy controls to prevent data misuse. Its critical to follow standard frameworks like DAMA/DGI and establish policies and procedures for granting data access permissions, defining data sharing protocols, and enforcing data usage guidelines.
Let's examine some Data Governance use cases.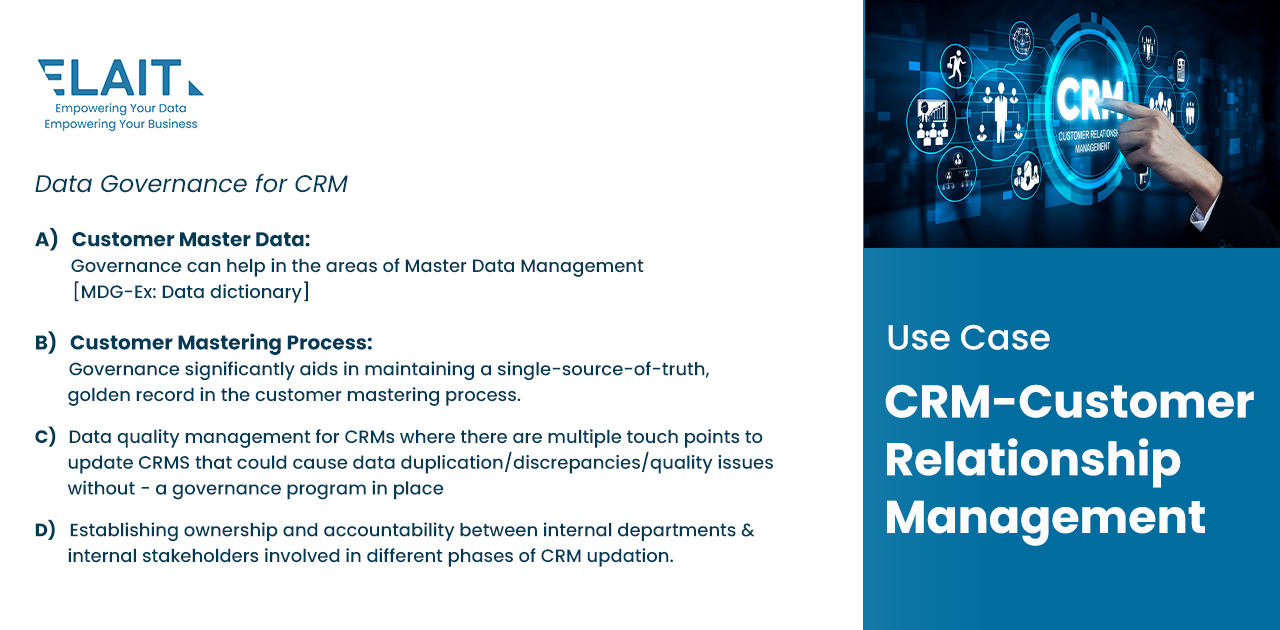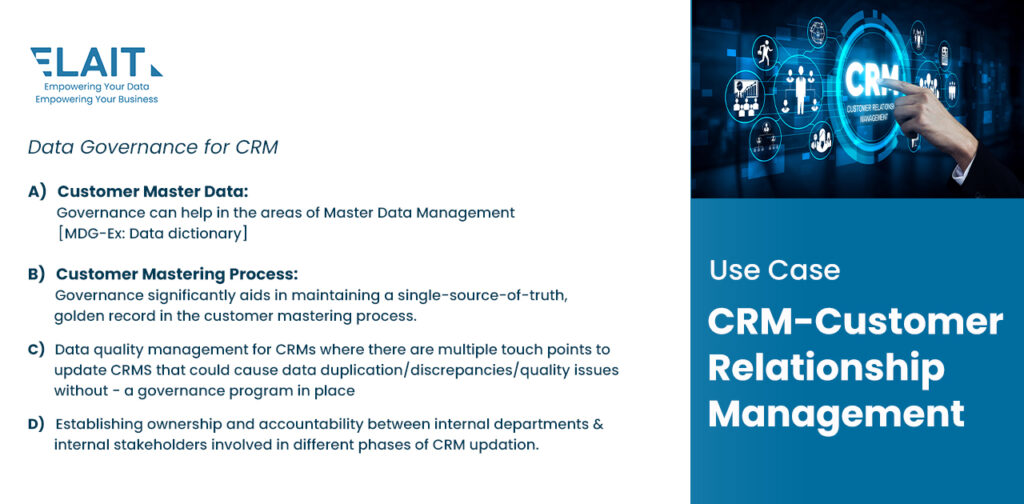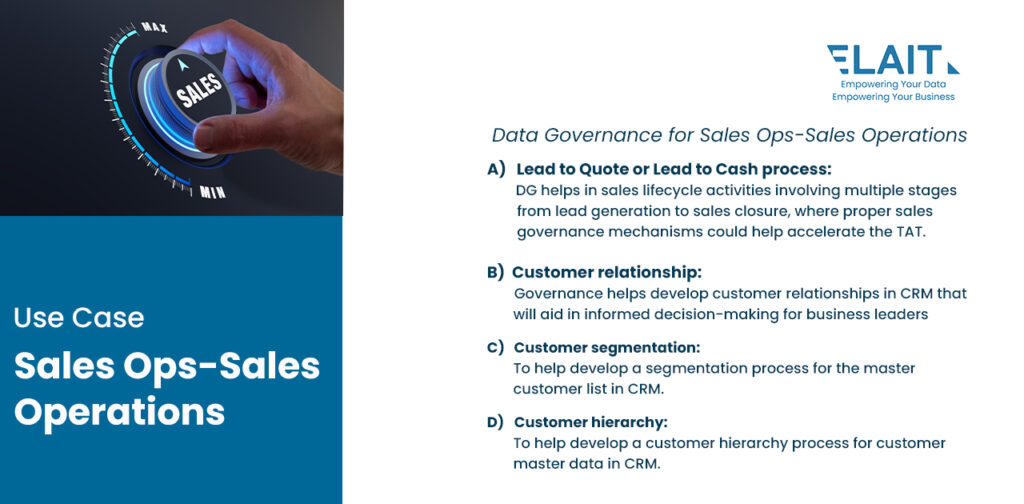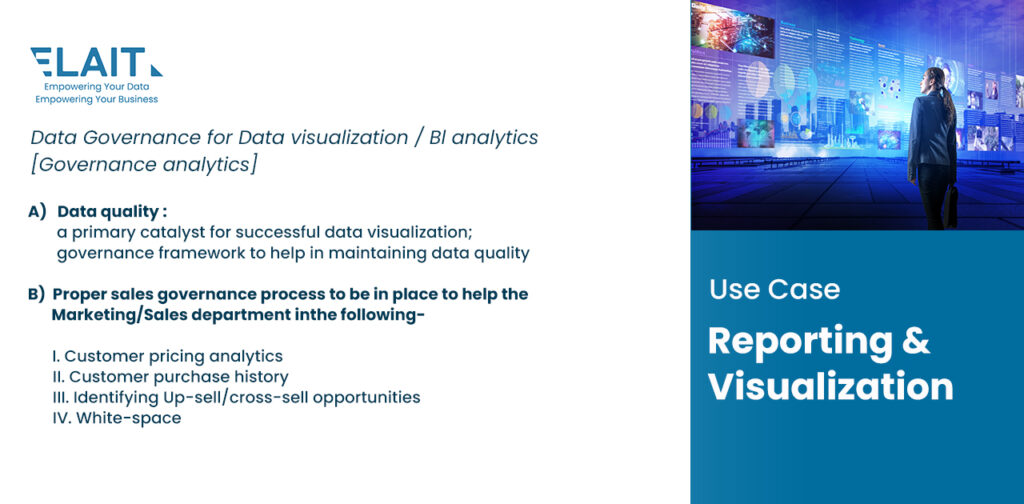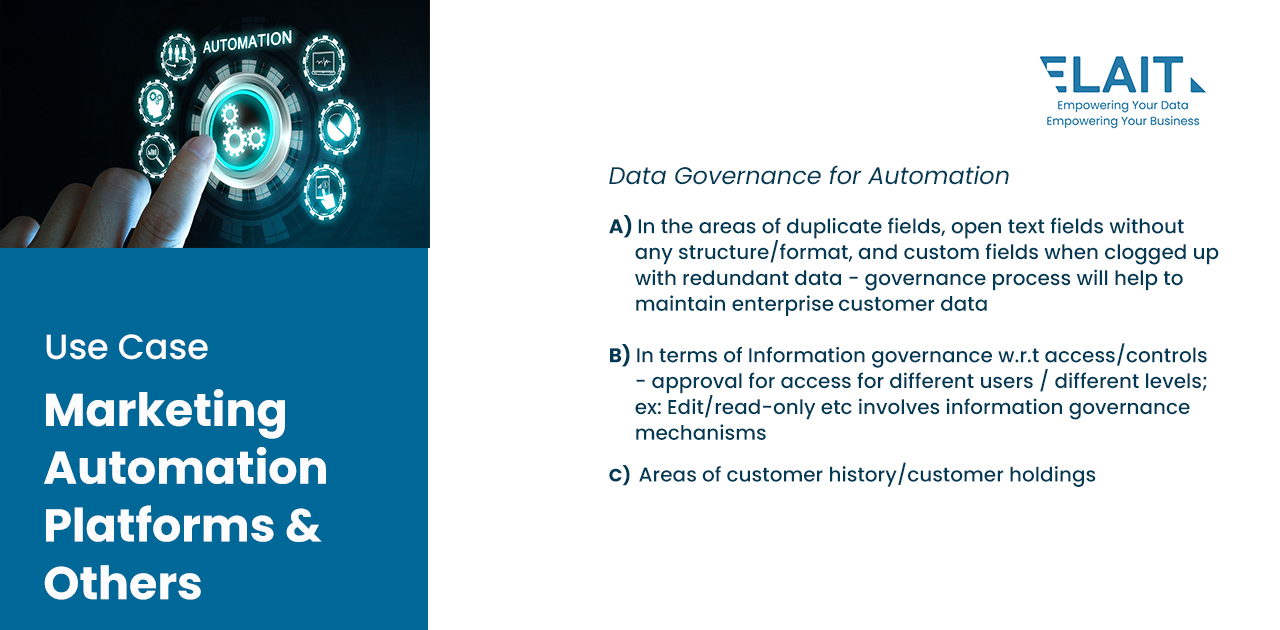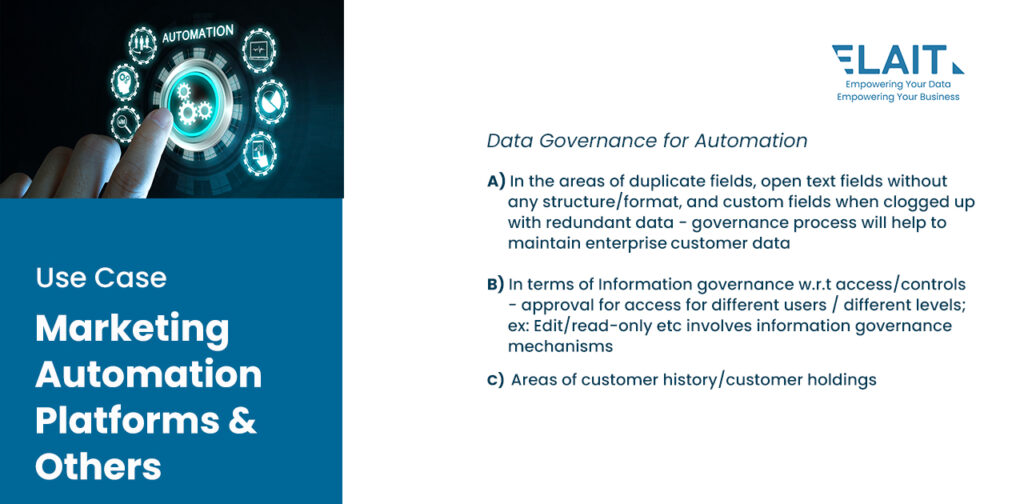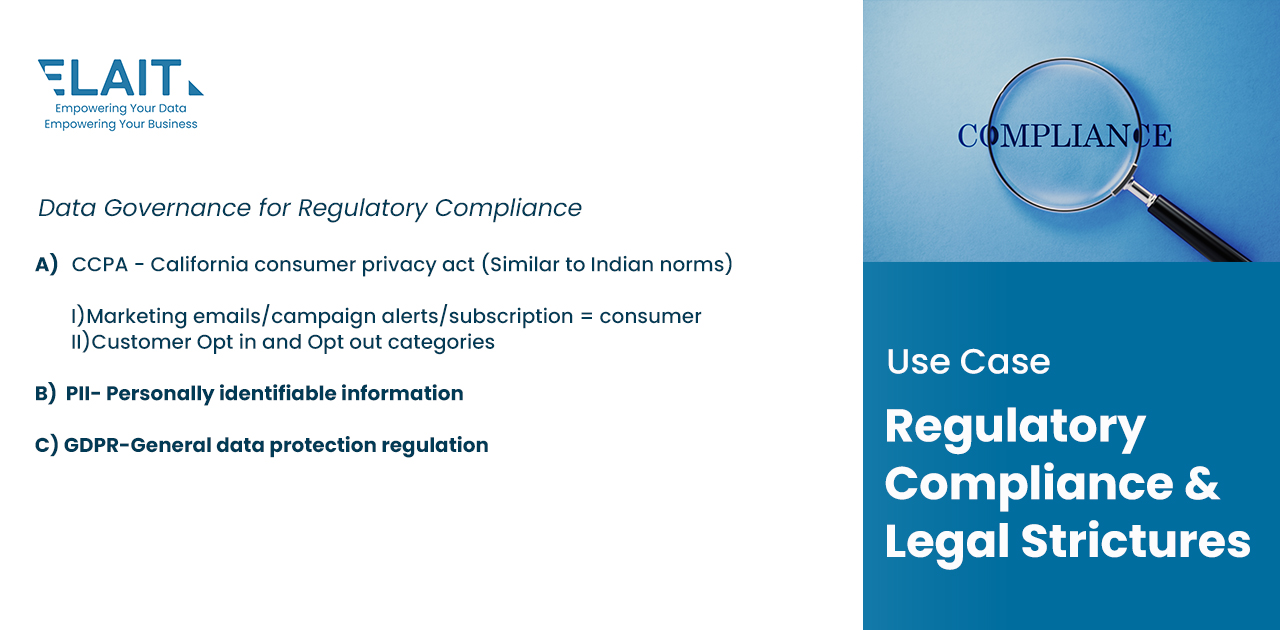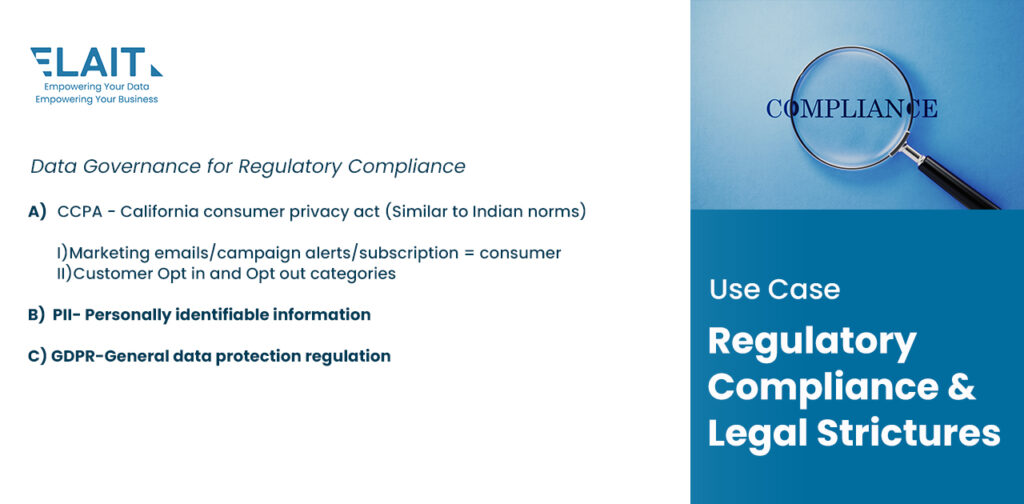 Case Study:
A large insurance company reported that viz-a-viz competitors their "Lead to Quote to Order" (L2Q2O) conversion metrics is way behind. The numbers quoted were while competitors averaged about 27 days, their conversion numbers were close to 36 days.
This is a typical use case as detailed on point "Lead to Quote or Lead to Cash process" in the use case "Sales Ops-Sales Operations" above.
While Data Governance was not adopted yet for the MarTech segment of data flow, the clients demand was to build a holistic of the data they possessed to enable them to understand the exact view of data across categories and parameters to help them determine the right levers to work on.
Now what are the representative challenges faced by insurance companies for "L2Q2O".
Elait helped the company create a matrix between Products, Process and People mapped against a set of more than 15 parameters that influenced each of them.
Interestingly mapping the parameters brought to light the following fractures in their estate :
Critical components like "time to completion" of quite a few parameters were not captured.
Crucial data related to certain parameters were distributed across multiple applications and these were not integrated into a single view.
HR data related to field staff training and competency was tracked manually and through excels and not mapped to overall view of the reports.
Too many products which were not current in the market were still part of the portfolio.
Multiple versions of same data were found across systems. &
Needless to mention gaps related to Data integrity, consistency, privacy and security management.
While the report gave them a bird's eye view on the levers that could influence better conversion rates, the overarching realization was the need to have better Data Governance to manage data.
Effective MarTech data management can augment the S&M efforts considerably.
Data Analysis : MarTech tools can provide real-time insights into customer behavior and preferences, enabling companies to make data-driven decisions about their marketing strategies.
Lead Generation : MarTech solutions can help corporations to identify, target, and engage potential customers, thereby increasing the chances of converting them into paying customers.
Customer Acquisition : MarTech can be used to automate customer acquisition processes, reducing the time and cost involved and improving the chances of success.
Customer Engagement : MarTech solutions such as chatbots and personalization tools allow companies to engage with customers in a more personalized and effective way.
Marketing Automation : MarTech solutions enable companies to automate repetitive and time-consuming tasks, freeing up resources to focus on more strategic initiatives.
Overall, MarTech is critical to the success of corporations in today's fast-paced and highly competitive market. It helps these organizations to be more efficient, effective, and customer-centric, driving business growth and customer satisfaction.
Overcoming The Challenges In Managing MarTech  
Managing MarTech in industries across verticals presents several challenges, but overcoming these challenges is essential for organizations to remain competitive and meet the evolving needs of their customers. By addressing these challenges and investing in the right MarTech solutions, organizations can enhance their operations, improve their customer experience, and ultimately drive business growth.
Develop A Clear MarTech Strategy
Developing a clear MarTech strategy is critical to overcoming the challenges associated with managing MarTech data. The strategy should align with the overall business strategy and should focus on achieving specific objectives such as enhancing customer experience, improving operational efficiency, and increasing revenue.
Adopt a robust Data Governance Program
To ensure the quality, security, and integrity of the data, adopt a Data Governance program that will clearly detail all policies and processes that will help implement data collection mechanisms, manage storage systems, and data integration tools that can effectively handle the volume, variety, and velocity of data generated by MarTech platforms.
Prioritize Data Privacy And Security
Sensitive customer data, and ensuring data privacy and security is critical. Therefore, it is essential to implement robust data security measures, such as encryption, access controls, and regular audits, to protect customer data from potential threats.
Embrace Innovation And Experimentation
MarTech is continuously evolving, and it is essential to keep up with the latest trends and innovations to remain competitive. Banks and insurance companies should experiment with new MarTech tools and technologies to understand their potential impact on the business and identify the most effective ones.
Foster a Culture of Collaboration
Collaboration between marketing, IT, compliance, and other teams is crucial to effectively manage MarTech in banking and insurance. It is important to create a culture of collaboration that encourages teams to work together towards achieving common goals.
Regulatory compliance is a significant challenge for banks and insurance companies when it comes to MarTech. It is essential to stay up-to-date with the latest regulatory requirements and ensure that MarTech tools and technologies comply with these requirements.
Invest in Employee Training
Investing in employee training and development can help overcome the challenges associated with managing MarTech in banking and insurance. Providing employees with the necessary skills and knowledge to effectively use MarTech tools and technologies can enhance their productivity and enable them to achieve better results.
Finally, it is essential to focus on enhancing the customer experience when managing MarTech in banking and insurance. MarTech tools and technologies should be used to improve customer engagement, streamline customer journeys, and provide personalized experiences that meet customer expectations.
Conclusion
In conclusion, while MarTech can offer significant benefits to companies in all verticals, implementing and managing data generated through the multiple platforms can be challenging. However, by understanding and addressing these challenges, organizations can leverage MarTech to drive growth, improve customer experiences, and remain competitive in today's digital marketplace.
It is important for organizations to have a well-thought-out strategy for integrating and managing MarTech solutions, considering factors such as data management, cybersecurity, changing customer expectations, technical expertise, and privacy concerns. The key however is a mature Data Governance adoption.
In the end, the successful adoption of MarTech requires a balance between leveraging its benefits while addressing the challenges that come with it. By taking a strategic approach and investing in the right technologies, platforms and resources, corporations can effectively manage MarTech and reap the rewards it has to offer.
At Elait, we are specialists in Data Governance. Our experienced consultants at the Data Governance Office, work in partnership with our clients and offer them the best advice for Platform selection, Data Engineering & Governance solutions, and services.
Reference
https://acoustic.com/blog/financial-services-marketing
https://aite-novarica.com/blogs/paul-legutko/martech-and-cx-insurance
https://www.martechalliance.com/hubfs/The%20State%20of%20Martech%2020222023/The-State-of-Martech-1011.pdf
Rajeev heads business strategy at ELAIT. He has more than three decades experience in Program Management and has participated in platform and technology adoptions across many corporations. He writes articles addressing challenges faced by enterprises around data.