With 2.9 billion players, real money gaming or iGaming is the world's top form of entertainment. Being highly engaging, they attract and entertain audiences from a variety of backgrounds. Perhaps that is why the number of online gamers in the USA outnumbers even American football fans.
The pandemic accelerated online casino gaming growth; all the major sports tournaments were rescheduled or canceled. The majority of casino and sports gamblers have switched to online casino gaming and fantasy sports betting. According to analytics insights, for most online casinos, people trying online slots and poker have increased by about 25% and 38%, respectively. 
Moreover, corporate sponsorships, endorsements, and legalisation of real money gaming have brought necessary cultural approvals for online gambling and sports betting. Growing at a CAGR of 11.4% gambling is projected to become a USD 158 billion industry by 2028.
Real money gaming presents a lucrative opportunity, but the businesses that utilise the generated data effectively will make most of this growth in the gaming industry. This article will look at how companies can profit from the booming games market by leveraging data generated through online gaming.
Growth in Online Gaming
DATA: The Growth Multiplier for Gaming Companies
Among several industries, the iGaming industry has access to the most comprehensive customer data. As the number of players increases throughout the world, gameplay generates data from multiple sources, which gets accumulated on the servers managed by the game developers.
The consumption and operational use of appropriate data can help real money gaming companies determine what attracts and helps them retain players. Trends elicited out of data from an online game player's journey can help businesses build effective strategies to not only retain players but persuade them to sample fresh options with innovative positioning and attractive incentives.
The Journey of an Online Player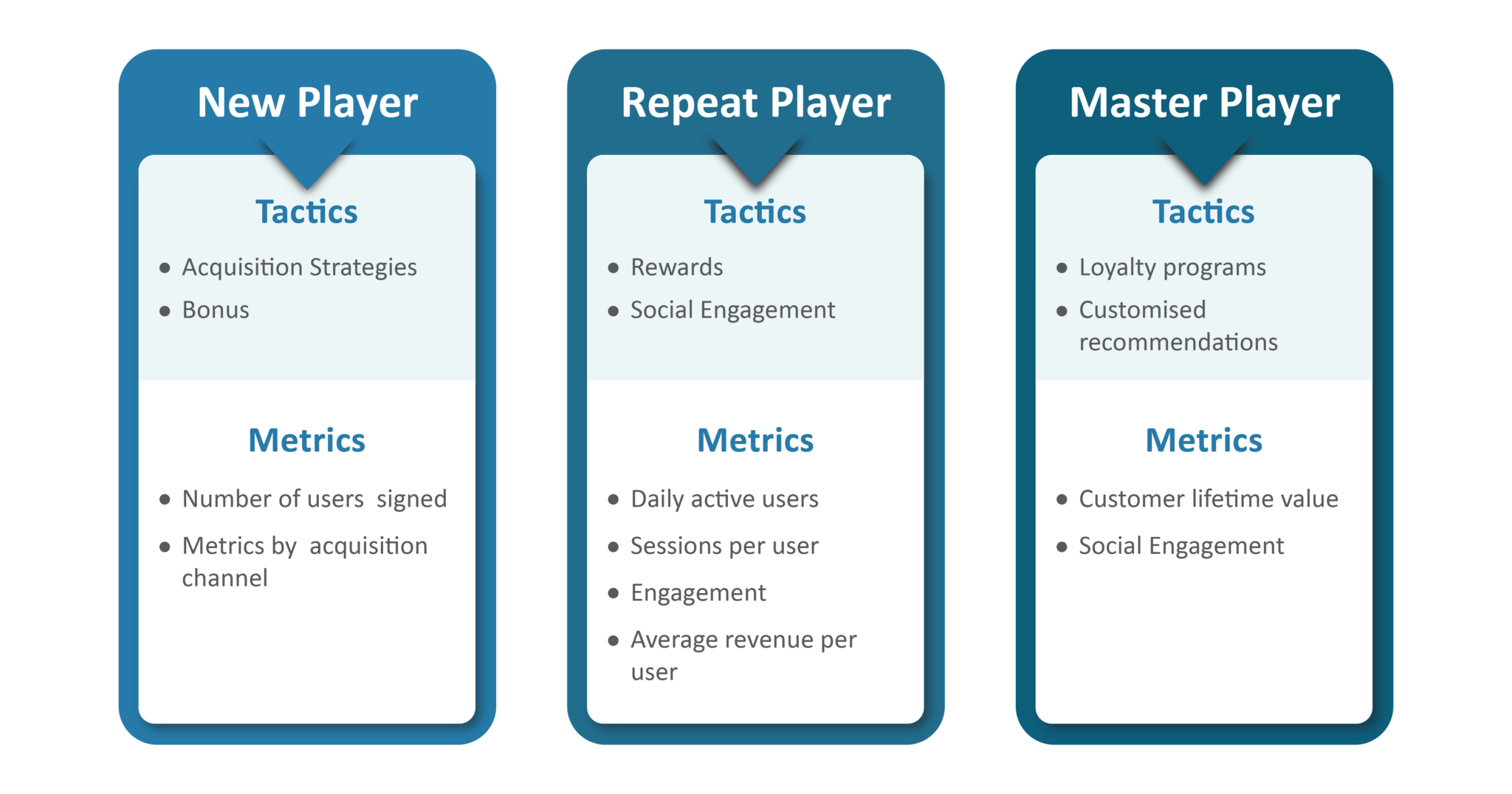 For iGaming, the player's journey goes through the above three stages.
To increase revenue, all gaming companies are interested in adding more players (New Players), ensure they play more (Repeat Players), and engage the gamers to become advocates (Master Players) by playing for longer durations.
Availability of accurate and timely data across these three stages can enable gaming operators to employ distinctive schemes  (as shown in the above diagram) to accomplish growth objectives. Let us discuss some use cases that illustrate the benefits that various iGaming companies have derived by using quality data.
STRUCTURED DATA: The Key to iGaming Success
Availability of structured data for behavioural and time-series analysis can enable gaming companies to analyse and devise strategies for player acquisition, engagement, and retention.
For most casinos just 5% of players are VIP (very important) users but they contribute 60- to 80% of the revenue thus identifying these customers at the early stage of customer acquisition is vital.
Let's see how structured data helped 188BET to gain 86% accuracy in predicting customer churn.
188BET is an online casino and sports betting company offering a wider range of products like Progressive Slots, Casino, Poker, Sports, E-Sports, Horse Racing, and many more.
188Bet wanted to reduce customer churn and identify potential VIP players at early stage, to deliver them an excellent customer experience.
Combining and analysing marketing campaign and customers' onsite behavioural data helped 188BET predict the customer's likely to churn, with 86% accuracy and recognise potential VIP customers.
188Bet was able to use the data to create an automated customer experience according to the players' interests like streamlined navigation bars, callouts, recommended games based on profile and real-time behaviour, reorganised game listings, and campaign targeting. Thus availability of structured data helped 188BET identify VIP customers and reduce overall customer churn.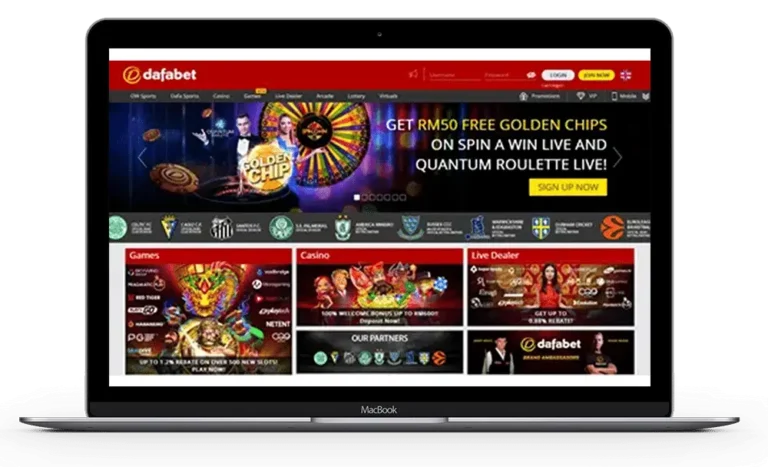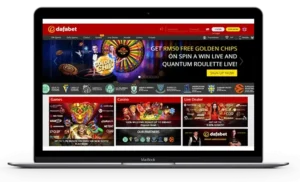 Similarly, iGaming company Dafabet used data to introduce new hovering menus to their site, where new and old games can be recommended to players in a more personalised and pictorial appealing manner. By suggesting new games according to the customers' tastes, Dafabet has significantly increased its gross sales.
RETAINING ONLINE GAMERS : Achieving the Most Ambitious Objective
A Bain and Company study shows that a 5% increase in customer retention can increase profits by 25% to 95%. That's why it's paramount to pay attention to loyalty and retention tactics.
In the Journal of Computer-Mediated Communication, an academic study points out that one of the most effective strategies for retaining users is engaging in social networks. It's no longer an individual but a community & Gamers that participate in social networks in online games are over 50% more likely to continue playing a game than those that do not.
Maximise Player Retention using Centralised Data 
A virtual slot machine – "OMG" by LuckyFish, which has over 12 million social users and 2.5 million app downloads, uses social features such as sharing, gifting, and public tournaments to keep users coming back for more. 
Lucky fish has been able to maximise player retention by using a centralised data warehouse that keeps track of their users' behaviour and measures the impact of all their social actions.
However, it may not suffice to only rely on coagulating data at a single point. Proper interpretation and propagation across social channels are paramount to entice consumers to play games. Additionally, this interesting illustration gives you an example of the need to choose the most appropriate social channels. 
A real money gaming casino might use Google AdWords and Facebook campaign in conjunction to acquire customers. Assuming that the Facebook campaign has a recall rate of 15% compared to 40% on the Google AdWords campaign after ten weeks, both campaigns could end up with the same conversion rate. If you only consider conversions while choosing the best-performing campaign, you might feel that both are equally effective. However, when you look at the big picture, you can see that the Facebook campaign has a considerably higher lifetime value per player because of its higher retention. 
What is the recurring theme in the above examples? Right Data, intelligent analytics, innovative visualisations, and smart use of social media lead to better leverage of existing inventory of data and better economics. 
Have you asked yourself what takes precedence? Its "Right data," without which all subsequent levers will be surreptitiously close but distinctly far from legitimacy. 
Maximise Revenues by Gaining 360-Degree View with Unified Data
Without data and analytics, today's gaming business is like trying to hit the bull's eye blindfolded. When all the data from different sources like CRM systems, automation software, emails, and others are combined, crucial insights get unearthed. 
While real money gaming companies generate vast amounts of data every second, real value can be generated only when the data is rigorously integrated and evaluated. Thus, data integration becomes vital. 
With data integration, data from different sources are combined into a single unified view. Unifying the data allows the analytics tools to produce actionable insights and business intelligence to maximise revenue opportunities. 
An established way of unifying data in the industry is by ensuring efficient data management using a data warehouse. Gaming companies can gain a competitive advantage to store and retrieve the structured data for analysis. 
Companies that effectively manage data will be able to analyse the player gaming journey and derive winning strategies to increase player acquisition, engagement, and retention.
The insights drawn can provide gamers better and more appropriate benefits, loyalty bonuses tailored to specific groups or even individual players, according to their demographics.
At Elait, we have worked with real money gaming companies and helped them manage data from multiple systems & migrating it onto a single platform. Check our case study to know more. 
We can help real money gaming companies create integrated data management solutions and applications that provide a comprehensive data view. Our solutions enable enhanced decision-making resulting in the delivery of a superior customer experience.  
Learn more about how Elait can help real-money gaming and sports betting companies.
Reference
https://newzoo.com/insights/trend-reports/how-brands-can-use-data-to-be-successful-in-games-esports/
https://www.grandviewresearch.com/industry-analysis/online-gambling-market
https://www.statista.com/statistics/1235357/online-gaming-engagement/
https://southfloridareporter.com/online-gaming-industry-faced-with-big-data-analytics-challenges/
https://schoenbaum.medium.com/keep-them-hooked-the-3-steps-to-increasing-player-retention-in-online-gaming-37a7b05bc282
https://deltadna.com/blog/analysis-difficulty-increases-peoplefuns-iap-revenues-150/
https://www.terawe.com/Gaming-Data-Analytics
https://linchpinseo.com/trends-in-the-gambling-casino-industry/
https://hbr.org/2014/10/the-value-of-keeping-the-right-customers
https://events.frosmo.com/hubfs/188Bet%20Case%20study.pdf 
https://www.dafabet.com/en https://www.analyticsinsight.net/gaming-boom-in-covid-19-times-analysis-insights/